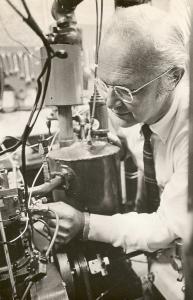 James C. Keck worked on rocket science at the Avco Everett Research Laboratory in response to the launch of Russia's Sputnik satellite. He joined AERL in 1955 as Principal Scientist and became its Deputy Director in 1960. He left in 1965 to join MIT.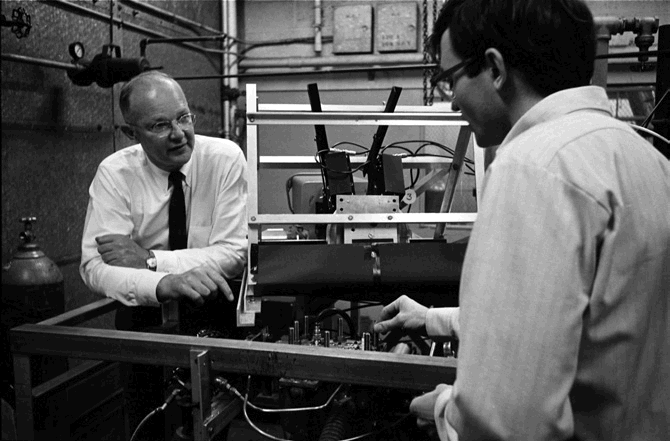 James C. Keck joined the faculty of the Mechanical Engineering Department at MIT when the Fluid Mechanics Laboratory was transitioning their research to focus on major societal problems that can be helped by a mechanical engineering approach. While Ronald Probstein concentrated on desalination, Ascher Shapiro and Forbes Dewey on biomedical research, Jim Keck and James Fay worked on air pollution and combustion engines. According to Mens et Manus: a History of Mechanical Engineering at MIT, this "reconversion" was viewed at the Institute as a model for resolving concerns with research directions at a time of societal and campus-wide unrest. In this photo Jim Keck is discussing with graduate student George Lavoie the monochromator and mirror setup they used to identify Nitric Oxide being formed in an engine (1969, photo from the MIT Museum).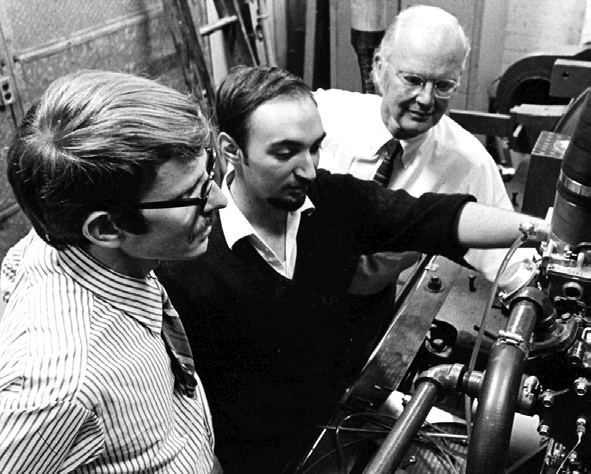 James C. Keck and John B. Heywood in the Sloan Automotive Laboratory, an early leader in pollution research, and improving automotive emissions and efficiency. In this photo they are with graduate student Guido Danieli (1976, photo from the MIT Museum).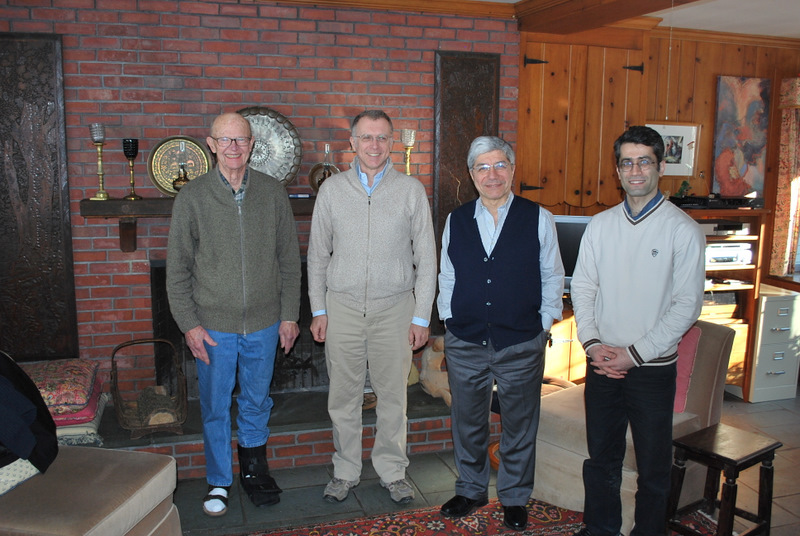 James C. Keck, Gian Paolo Beretta, Hameed Metghalchi, and Mohammad Janbozorgi pose in Jim's house in Andover after a long discussion session on their review paper on "The Rate-Controlled Constrained-Equilibrium Approach to Far-From-Local-Equilibrium Thermodynamics". This was Jim's last paper, to appear posthumous in the journal Entropy (photo January 2010).
If you have collaborated with prof. Keck and you happen to have photographs with or of him in a Lab or at a Conference, please do share them with us, send them to and we will consider adding them to this photo gallery. PLEASE provide also text to accompany each photo possibly identifying the date or period.